War Paint is short series of photographs where I used stage makeup to paint a models face.  I also included in that series a image of a woman covered in mud.  I went down this path after going back to where I grew up in Colorado.  My wife and I were walking along some shops and found an interesting Indian art gallery.  Inside the gallery was paintings from an artist known at Henri Peter.  Henri's work is very vivid and it is something that really catches my eye.  Rumor is that Henri is partially color blind and therefore paints in very vivid colors so that he can see them.  I have no idea if that is fact or fiction but my wife and bought a few pieces and returned home.
After we hung the pieces my mind began to wonder.  I had worked with several models by this point so I went to the rolodex and ask if any of them would be interested in helping me with an art project.  To my joy several agreed.  First up is Christine Look for this we used some sort of indian costume we found online and her face was painted using stage makeup.  The makeup artist for this was me I had my own vision and I wanted to see if I could make it come to life.
As you can see we used the white paint outlined in black on a blue facepaint.  We kept the lips natural and then we use a blue background that was about 5 feet behind the model with a softbox stage right.  The images worked I wanted a bit more color but what really captured me is the black and white.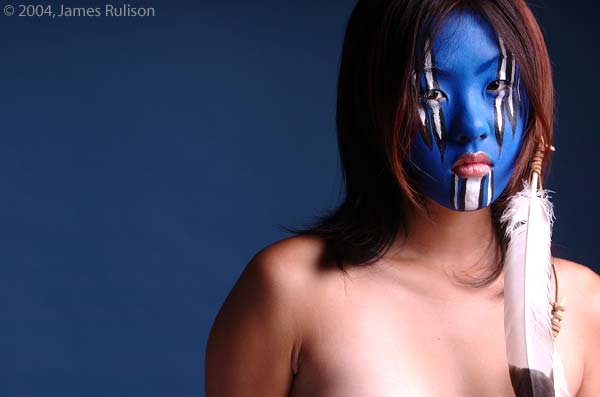 Slightly different look above with a little bit a of a hot spot from her flesh.  I needed a secondary reflector or beauty dish inside the softbox to help soften it a bit more.  Below is a vertical where you can see more of the costume.
So after seeing the black and white there on her face it gave me a new direction to take my images.  I wanted to move further into this black and white lines I have always preferred black and white to color images so I took that step with these next images.  For these images I used another model I know Jessica.
 You can see I needed a steadier hand but ultimately this was fixed in photoshop.  For you the reader though I want you to see the native untouched image.  The close up really didn't tell the story I was looking for I wanted something with more solitude.  So I asked her to sit on the floor and for this shot I used 4 stope units.
To keep the whites white I used there is a huge softbox to the stage left that is diagonal with a black skrim holding some of the light off my subject.  A smaller softbox was to the right with a reflector below.  We also used two more strip softboxes for the top of the white backdrop.  I liked this shot a lot and it really conveyed that solitude I was seeking.  My brain began to wonder yet again and this time i was thinking about hard cracked surfaces.    I called yet another model this one is named Lydia.  My first hurdle was asking the model if she minded being somewhat nude in the scene.  As I have never worked with her in nude or implied nude I needed to get that done first.  Don't spring a nude or implied nude on a model it is wrong and unprofessional.  She needed me to explain the shoot and once I did she was very excited to a part of it.   This was a very hard shoot for several reasons.  First I was using mud to cover the model then I needed it to dry some to crack.  Additionally I had to think about the model's comfortability, this is highly overlooked even by professionals.  You can build a good professional reputation if you respect and treat your talent well.  For this shot we used a kid pool to keep the cleanup to a minimum.  We used hot/warm water to make the mud and also keep the model warm.  Instead of a normal assistant I used Lydia's husband to help place the mud this left any intimate regions to his careful touch.  While we placed the mud on we used 4 x 1000 w lights all in 12 inch half domes.  We placed them around us to keep the model warm and help dry the mud.  Once the mud was in place we added hair driers to help with the drying process.  We took several images but the one that struck me so much was the shot of Lydia removing some of the mud it was dramatic and in B&W it just spoke to me.
 These shoots would never be successful without working as a team.  Don't be afraid to take charge but remember that everyone needs to be in on the art or it just doesn't go to that next level.  If you have any questions contact me and I will get back with you.